A group of individuals and representatives of organisations who work for and with people with disabilities and are committed to improving the quality of life of disabled people in West Lothian. The needs of disabled people to develop planned strategies which seek to reduce the negative barriers affecting disabled people within their community to build good working relationships with all service agencies and to promote new initiatives which increase integration.
We are active in a range of areas:-
Disability Equipment Zone – Practical Equipment and resources to loan with the support to use them.
Information and Support – Disability Equality, Independent living, Community Engagement, Accessible Information, and more.
Jargon Busters – Creating Easy Read material, sharing ideas and support
Mystery Shopper Project – Giving feedback to services
West Lothian Access Committee – Improving access and attitude in communities. Access Audits, Access Visits and more.
Training, Seminars and Workshops – Equality Awareness, Communication, Barrier-Free and more
Applicants for this service should also meet this condition:
People with a disability and all people interested in disability issues.
Contact Info. & Service Address
Disability West Lothian,
James Young House
Drumshoreland Road
Pumpherston
EH53 OLQ

Provider's Name: Disability West Lothian
Type: Charity/Voluntary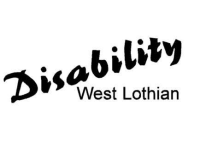 Disability West Lothian helps to improve the quality of life for disabled people in West Lothian. We are a user-led organisation, active in West Lothian since 1976, promoting the ideals of the Social Model of Disability. We encourage people to help us tackle discrimination, to help us make better use of resources, to improve attitudes and access in our communities, we also help individuals, businesses, voluntary organisations, public authorities and communities.
Services run by this provider